Whether you are a property manager, facilities supervisor or a plant support coordinator like DeeAnn Hogan at the Jim Beam Distillery, it's likely your day-to-day responsibilities run the gamut — and pull you in a million different directions.
This demanding on-the-job reality is something DeeAnn knows well.

From managing the janitorial crew to completing administrative work to conducting thorough property walk-throughs, a day doesn't pass when her finger isn't on the pulse of this 420+ acre Beam Suntory property in Clermont, Kentucky.
A Multi-Faceted Property
"We have a very dynamic site," DeeAnn says. It includes public tours, the Jim Beam Distillery, the Knob Creek guest house, production warehouses, on-site dams and a Global Innovation Center.
Luke Tedder, LIC, Klausing Group's Louisville Branch Manager, agrees.
"The property is a bit of a mixed bag," he says. From spring cleanup to summer annual installations to snow removal in the winter, "Beam Suntory is full-service client and we regularly maintain about 160 acres of the property."
Since 2014, Klausing Group has provided year round grounds management services to this popular tourist destinationandproduction facility in Clermont. This case study will look at the exterior challenges both sides of the site present and Klausing Group's efforts to manage them.
Managing A Highly Visited Site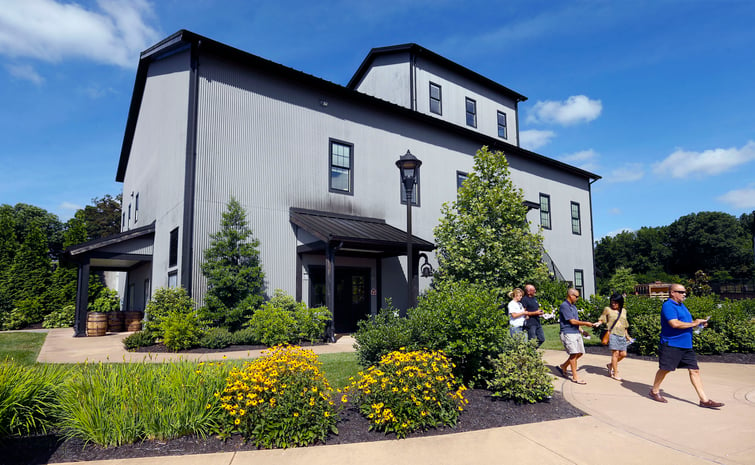 Set in rural Clermont, the Jim Beam Distillery is a 30-minute drive south from Louisville and welcomes more than 200,000 visitors on an annual basis.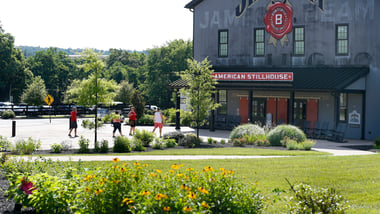 "Aesthetics have so much to do with this site," Luke says. "With so much visitor traffic coming through, they have a high standard as to how they want the grounds to look — and they hold us to that."
Beyond the property's weekly landscape maintenance requirements, Klausing Group has provided landscape design consultation for the site's many focal points that include seasonal plant installations and landscape renovations.
"Klausing Group knows our property inside and out," DeeAnn says. "They know the visitor route for our public tours has to be immaculate. They know our visitors are very important to us, so it becomes important to them and that shows."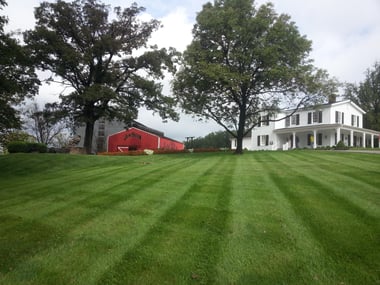 Weekly mowing that respects visitor hours? Check.

Priming the grounds and clearing out before guests arrive for a big event? No problem.
From time to time, Klausing Group is required to operate under some time constraints and adhere to set-in-stone deadlines. DeeAnn explains:
"They know when they can mow and when they can't. And they know our events calendar, which is awesome. We don't have to think about it. They are planning ahead with us in front of major events. We don't have to call and say, 'Hey, Derby's coming up.' It's already on their schedule. They know when new flowers and fresh mulch need to be down."
Certified Safe And Efficient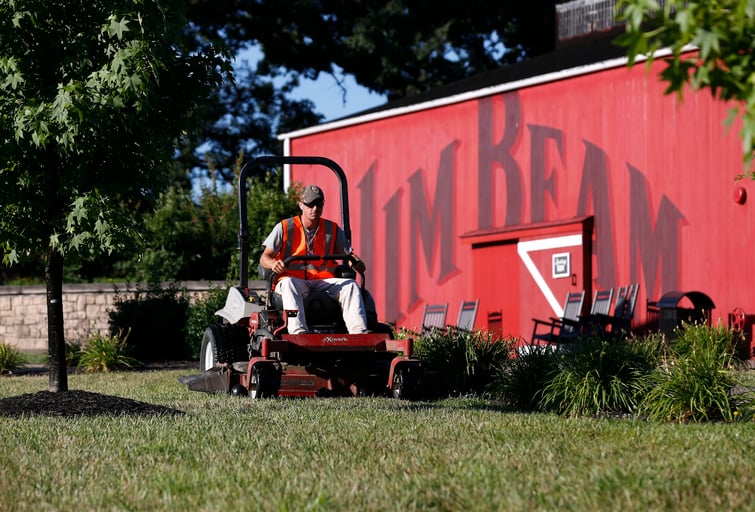 The Beam Suntory facilities produce an ISO-certified product. The bourbon. This certification means Beam Suntory employees and facilities observe a strict management system that result in a more efficient use of resources, improved risk management and increased customer satisfaction.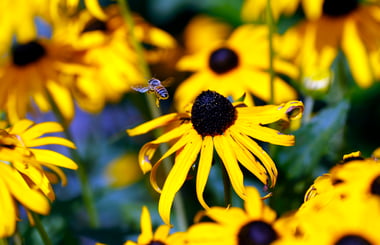 According to DeeAnn, vegetation control around the Beam Suntory facilities is an important factor in achieving and maintaining this certification.
"安全、高效专业duct, meeting customer and legal requirements, the condition of our grounds is a big part of that," DeeAnn says. "Klausing stays on top of any vegetational growth and debris around our facility."
Rigid safety standards also come into play here. DeeAnn notes that Klausing Group's approach to staffing and safety protocols continues to impress her and her colleagues at Beam Suntory.
"They hire a different caliber employee," she says. "Their crews meet all of our safety regulations; they are always in their vests; they always wear hearing protection and safety glasses. They are all about safety and, in a safety driven plant, our employees recognize that."
Production, Uninterrupted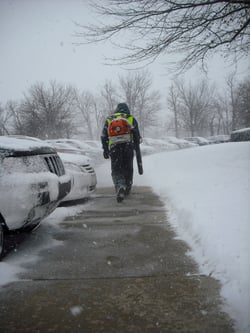 In addition to acres of manicured turf and the rotation of seasonal plant installations, snow and ice management is another primary service Klausing Groups provides the Beam Suntory grounds.
"The highest priority when snow accumulates is keeping up with production," Luke says. "We cannot have an interruption in bottling because of snow. If they can't get the bourbon in and out safely and effectively, we're not doing our job."
Due to the site's rural setting, Klausing Group and Beam Suntory worked together to ensure salt is readily available and easily accessible by storing the bulk material on-site.
This is just one example of how the client-contractor partnership has helped improve responsiveness under poor weather conditions. Another example comes from Beam Suntory's trust in utilizing Klausing Group's professional services for all four seasons.
Referencing Klausing Group's work during the snow-free months, DeeAnn says, "They already know where all of our sidewalks are and the major traffic patterns, so they know where they can move the snow. They know the areas that are a priority so that our staff can get into or leave the plant safely."
Klausing Group's commercial snow and ice removal services include:
Site specific programs

Pre-treatment

Snow plowing

Sidewalk shoveling

De-icing

24/7 Weather & Site Monitoring
Where Trust Produces Results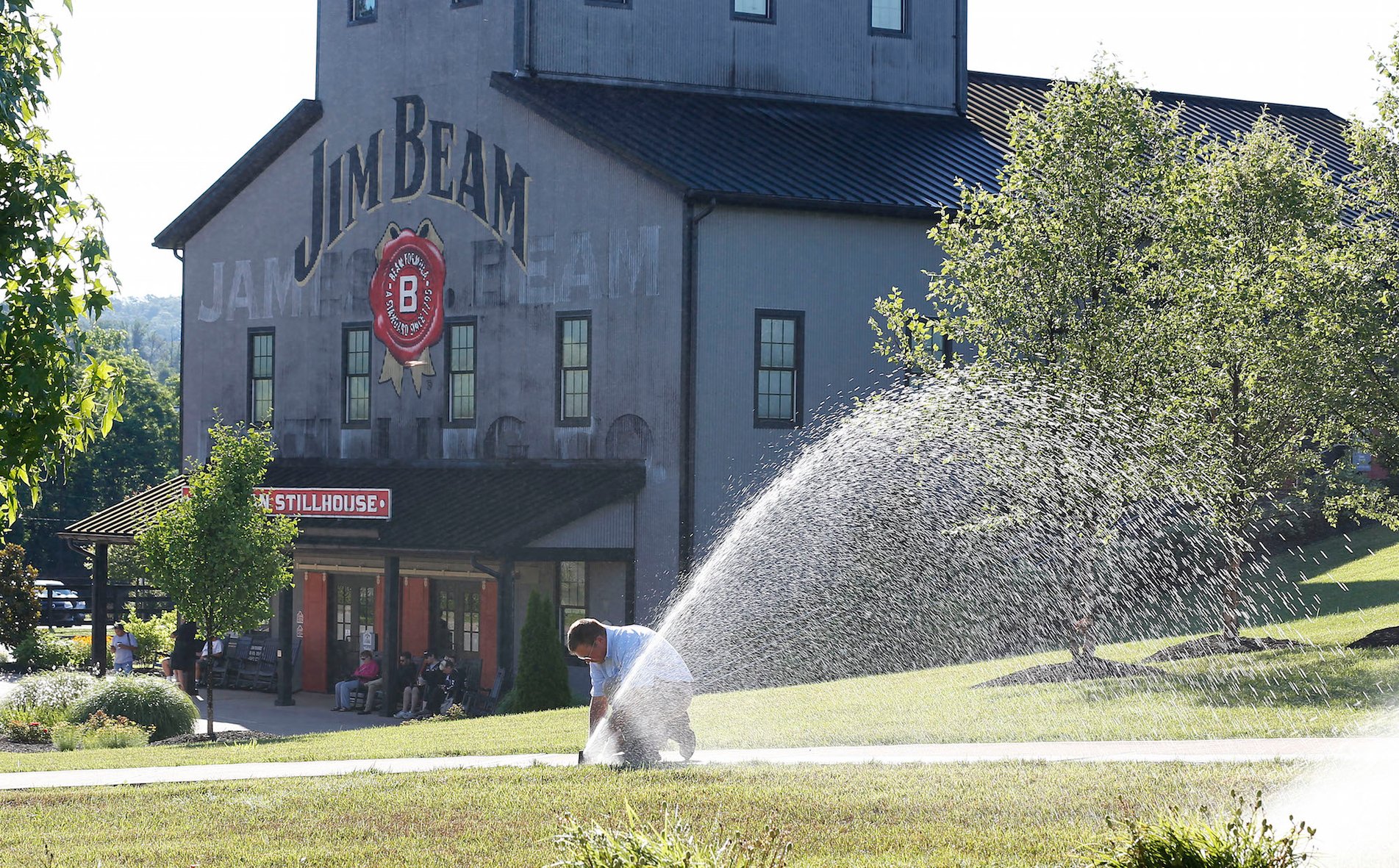 Sometimes property managers micromanage. It's understandable. In order to get the results you want — and the results you are paying for — keeping a close, watchful eye is a necessary evil.
Fortunately for DeeAnn, she doesn't have this problem. "We're here to make bourbon, not worry about our grounds," she says. "We work well with Klausing Group because they know what they're doing and they understand the expectations we have.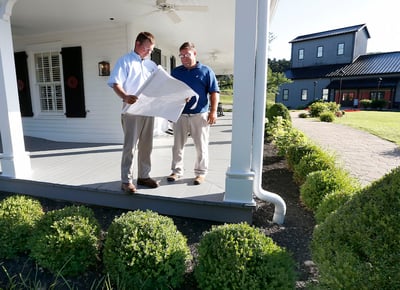 "We trust them."
And when it's time for Beam Suntory's plant support coordinator to pick up the phone — sun or snow — she appreciates having just one point of contact at Klausing Group to ensure every request, question, compliment or criticism is clearly received.
Who Do You Trust With Your Property?
Are you tired of dealing with two contractors for what should be one scope of work? Or maybe you're ready to hire a commercial landscaper able to meet your expectations the first time. You have enough to worry about. Your grounds, under sun or snow, shouldn't be one of them.
With branch offices in Louisville and Lexington, Klausing Group has focused solely on servicing commercial properties since 1992. If you are ready to partner with a commercial landscape contractor you can trust, call us any time at 859-254-0762, orfill out this simple contact formand we'll get in touch with you.